Vitasweet® Ace-K gained "famous brand production in Anhui province"
---
Recently, Vitasweet® Ace-K (potassium acetylsulfamate) has gained "famous brand production in Anhui province" with excellent product quality, high customer satisfaction and good brand reputation.It is issued by the famous brand strategy promotion committee of Anhui province, through the joint evaluation and approval of the Anhui provincial quality and Technology Supervision Bureau.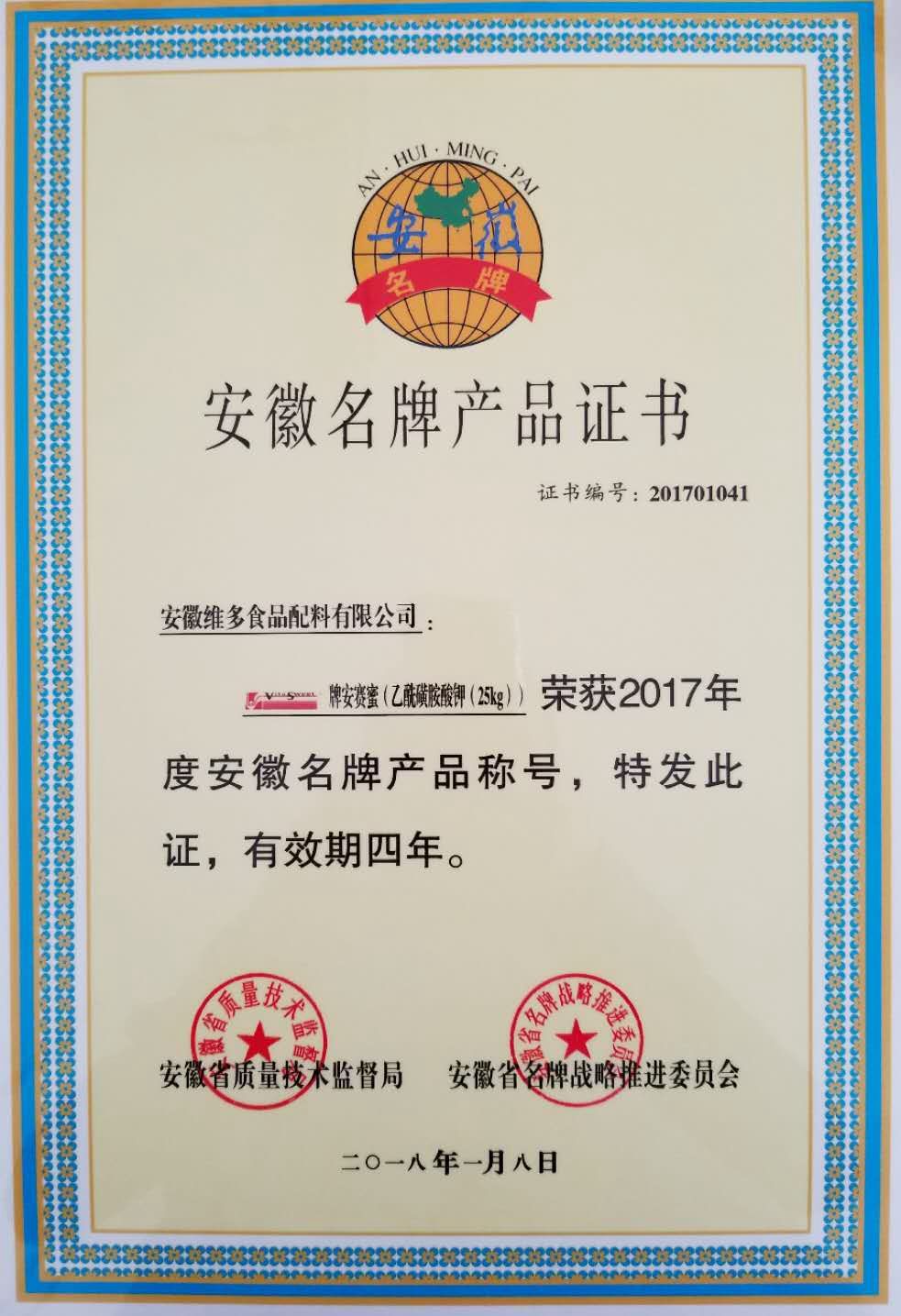 Ace-K is one of the most safe sugar products recognized in the world at present. It is characterized by high sweetness and no metabolism. It is especially suitable for the obesity, diabetics and patients with hypertensive. Vitasweet founded in 1995 and is the first manufacturer of Ace-K in China with mature production technology.In terms of the product quality, it is better superior to that of products in the domestic and foreign especially the impurity control.
For 20 years, Vitasweet® Ace-K has gradually gained confidence of more and more food manufacturers in the world, with its high-quality product and excellent service, Vitasweet has won its worldwide credit in the field of food ingredients. Vitasweet is also a leading brand in the industry, occupying a larger market share in the high-end market at home and abroad. It is a designated supplier of well-known enterprises such as Coca-Cola, Arrow card, Kraft, Suntory, Erie, Mengniu and so on.
Brand competitiveness is an important part of the long-term development of the enterprise and the key factor to determine the competitiveness of the market in the future. Vitasweet, on basis of quality, service and brand, adheres to the spirits of integrity and quality and spares no efforts to build one hundred brand by advocating healthy and economic diet, in food, beverage, daily necessities, medicine and other fields, contributing to the improvement of the consumer's life taste.

Pay attention
---
Copyright © 2022 Vitasweet Co.,LTD. ALL RIGHTS RESERVED