Vitasweet(Anhui)---top five enterprises of industrial tax payment in the district of suzhou
---
On March 6, 2018, the suzhou economic and technological development zone held a work conference of 2018. The conference commended the advanced enterprises for tax payment in this area of suzhou in 2017. Anhui company, the branch of Vitasweet group was awarded the title of "top five enterprises of industrial tax payment in the district of suzhou". Xiangyang, Tang the vice general manager, was invited to attend the conference and accepted the award.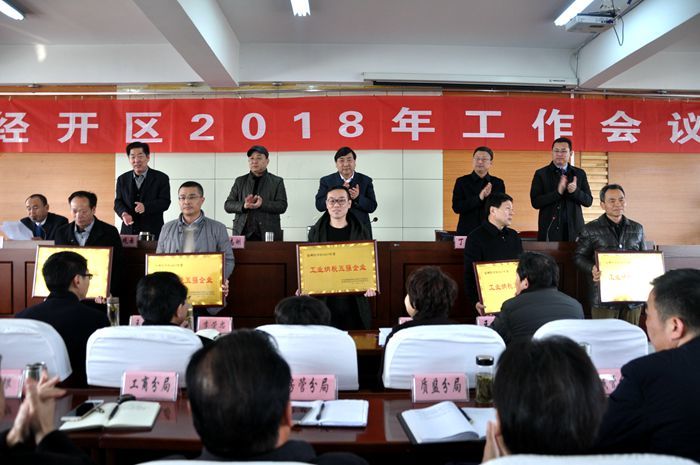 On the meeting, Zhigang, Shen, the district Party committee secretary and director of the CMC made a speech about a comprehensive view of the work in 2017 on behalf of the Party Working Committee, the CMC, and congratulated the advanced companies, and sent their thanks to a positive contribution to the Economic of Suzhou economic development zone and social development from Vitasweet and other enterprises.
Created and grown up in the zone, Vitasweet(Anhui) is from small to large, continuously developing in the strong leadership of the CPC municipal committee and municipal government, and their concern and support over 8 years. At the same time, company of being bigger and stronger has been actively fulfilling social responsibilities, actively cooperating with the tax department, and insisting on paying tax in good faith and paying tax on time. Regarding this award as an opportunity, we will play an exemplary role on better repaying the society and promoting the development of local economy.

Vitasweet Co., LTD. the predecessor of Beijing Vitasweet chemical co., LTD., is established in June 2010 and the first domestic production enterprise of Vitasweet® Ace-K. Our company has passed ISO9001, ISO14001 quality system certifications ,ISO22000 and BRC food safety certification system, etc. In terms of production equipment, management level and technical index, it has developed into the world's leading professional manufacturer.
With its excellent service, Vitasweet improves its reputation in industry and has received the trust from many international and domestic well-known brand customers, established a complete distribution network in the whole world. Its clients spread all over Asia, Europe, America, Africa and Australia, is the designated supplier of well-known enterprises such as Coca-Cola, Wrigley, Kraft, Yili, Mengniu Corp etc.
Looking forward to the future, Vitasweet will continuously focus on the field of sweeteners, further enhance the core competitiveness, establish a long-term strategic cooperative relations with customers, so as to realize the mutual benefit and win-win, create a sweet life together.

Pay attention
---
Copyright © 2022 Vitasweet Co.,LTD. ALL RIGHTS RESERVED