---
Products Compounded
Vitasweet has a number of excellent quality control staff, they always rigorous and careful attention to the full production of Products Compounded
Through the monitoring of the quality of raw materials and finished products, the improvement of product quality and the establishment of product specifications, we constantly examine and improve the quality management and production operations.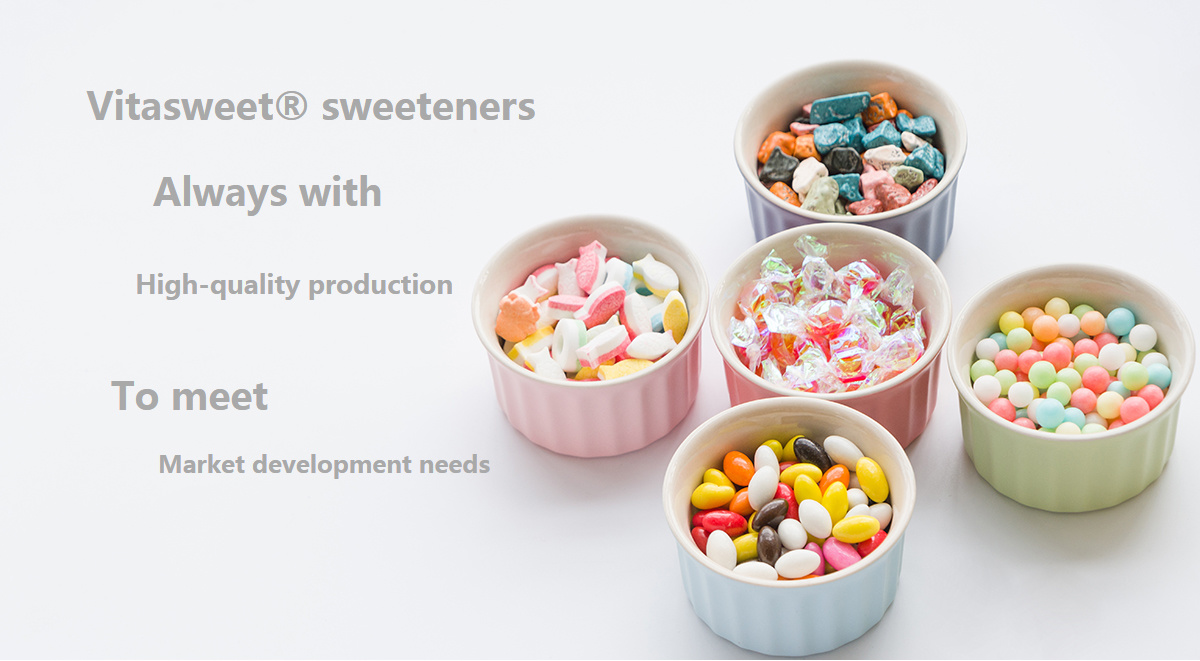 Synergistic effect of Vitasweet ® APM combined with other sweeteners
Sweeteners
Synergistic effect
Noncarbohydate
Vitasweet ® APM
40%
Cyclamate
25%
Neohesperidin
25%
Carbohydrate
High fructose syrup
20%
Jam
15%
Sucrose
10%
The application examples of Vitasweet®Ace-K,Vitasweet®APM in food,drink,personal care producs and pharmaceutical

Lemon juice

Milk drink

Sucrose
40g
Defatted milk powder
12.2%
Vitasweet®Ace-K
0.04g
Cream
4.9%
Vitasweet®APM
0.04g
Vitasweet®Ace-K
0.01%
Concentrated lemon juice
24.13g
Cyclamate
0.03%
Lemon emulsion
3g
Microorganism nutrients
2.4%
Water
To 1L
Water
80.456%
Gum

Ice tea

Sorbitol
51.3%
Oolong tea
Optimal dosage
Gum base
34.9%
Vitamin C
100mg
Mannitol
8.1%
Ethyl maltol
1mg
Glycerol
2.8%
Vitasweet®Ace-K
40mg
Water
1.4%
Vitasweet®APM
40mg
Flavor
1.1%
Cyclamate
320mg
Vitasweet®APM
0.35%
Fructose
20mg
Alitame
0.05%
Other
Optimal dosage
Soda
To 1L
The distribution network of Products Compounded
Vitasweet has a sound and perfect distribution network. Its clients spread all over Asia,Europe, America, Africa and Australia.
As your partner, it provides not only high-quality products,but a complete technical support including product formulation, problem solutions, and final products evaluation.Combined efforts mutually will bring its customers' products a better development and a broader market.
Vitasweet will back you up with complete pre-/after-sale service.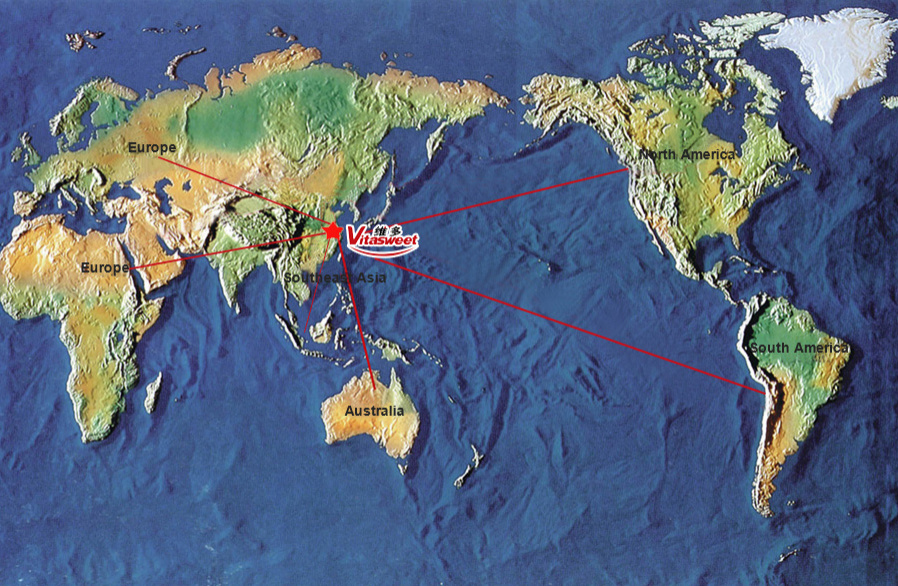 Pay attention
---
Copyright © 2022 Vitasweet Co.,LTD. ALL RIGHTS RESERVED